Current Gold Price
Please refresh this page for the current rates.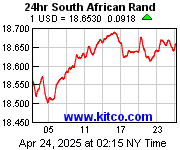 Live Gold Price
There are three facets to the Gold price:
Ounce Price in Rands (Top Left): This is the 'Spot' price and is the Gold Price in Dollars multiplied by the Rand/Dollar exchange rate.
Ounce Price in US Dollars(Top Right): The current Gold price in Dollars only.
Rand/Dollar exchange rate (Bottom): The current rate of the South African Rand and United States Dollar.